CHOSEN DESIGNS GET APPROVED BY THE STUDIO – AND ARTISTS GET PAID. ALWAYS.
UNIVERSAL MONSTERS FAN ART CONTEST
Welcome to the Universal Monsters Fan Art Contest, presented by
Hot Topic and Fan Factory!
To enter, submit an original design inspired by the world of Universal Monsters: Dracula, Frankenstein, The Bride of Frankenstein,The Wolf Man, The Mummy, The Invisible Man and Creature from the Black Lagoon.
GRAND PRIZE INCLUDES $2,000!
And if we end up using your designs on our merchandise, we'll do a separate agreement with you
that's not part of this contest!
Fans have the opportunity to vote for the design they would most like to buy and wear.
SUBMISSIONS ACCEPTED
FROM 7/20/2018 AT 12:00 AM PST
UNTIL 8/10/2018 AT 11:59 PM PST
VOTING BEGINS
7/20/2018 AT 12:00 AM PST
AND ENDS 8/10/2018 AT 11:59 PM PST
Universal Monsters Fan Art Contest
Universal Monsters Fan Art Contest Judges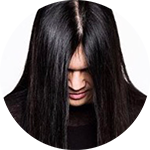 Joe Enriquez


Joe is the Senior Buyer of Men's Licensed Apparel for Hot Topic. He loves Metal, Pro-Wrestling, and Cats.
Mercedes Escobedo


Mercedes has been with Hot Topic for 14 years and is currently a Buyer for Men's Apparel. She is an absolute fangirl – everything from horror and Harry Potter to Pirates of the Caribbean. In her free time, she is a cosplay extraordinaire.
CRASH MCCREERY


"Crash" McCreery has worked in the entertainment business for the past 24 years and has designed for some of the most prestigious films in the industry. He spent the first 11 years of his career working for Make Up Effects legend Stan Winston as one of his studio's lead artists. He then continued as a freelance creature designer in 2001. His character designs can be seen in such films as the Jurassic Park series, the Pirates of the Carribbean series, Edward Scissorhands, Terminator 2, Ghost Rider, The Relic and many more.

He has designed for numerous high profile directors such as Steven Spielberg, James Cameron, Tim Burton, M. Night Shyamalan, Larry Kasdan and Ang Lee. He acted as Gore Verbinski's Production Designer on the live action film, The Lone Ranger, as well as the animated feature, Rango, which earned Crash an Animation Award for best character design and helped Verbinski garner his first Academy Award for Best Animated Film. He's currently working at Universal as the lead designer for all things "Universal Monsters."
UNIVERSAL MONSTERS FAN ART CONTEST GUIDELINES
Create an original piece of art inspired by the Universal Monsters.

Explore the full story of the each individual Universal Monster- incorporate secondary characters and environments where appropriate.

Stay true to the nature of the characters as depicted in the Universal Monster films.

This is your chance to let your Universal Monsters fandom really come through. Design and illustrate around current themes or favorite icons associated with the Universal Monsters, including:

Frankenstein's Monster

Bride of Frankenstein

Dracula

The Mummy

The Wolf Man

Creature from the Black Lagoon

The Invisible Man

You may only use logos within your design if they are associated with the characters of the Monsters films (ie. Frankenstein logo can be used with Frankenstein)

Do not use any 3rd party copyrighted or trademarked content, or inappropriate content, language or imagery. Winning submissions are intended to become officially licensed product. Obscenity and infringement will NOT be considered.

Do not submit film stills from the Universal Monsters films. You must create your own original art.

Do not incorporate any other brands or products with Universal Monsters, even if you own them. You can use iconic features of any characters from the movies, but use of actor images and/or likeness is not allowed. Example of a permitted image is below:

Submissions will be accepted for both collective and individual Universal Monsters featured in designs.

Lean into iconic features of Universal Monsters including:

Frankenstein's bolts, scar down right side of his forehead, and his flat topped head

Bride of Frankenstein's white streaked hair

Dracula's hair line and distinctive cape

The Mummy's ring located on right middle finger

The Wolf Man's outfit and distinctive features

Creature from the Black Lagoon's scales, webbed hands, texture of the gills

The Invisible Man's unique eyewear

Refer to the official Rules and Regulations for more information.
NO PURCHASE NECESSARY TO ENTER OR WIN A PRIZE. A PURCHASE WILL NOT IMPROVE YOUR CHANCE OF WINNING. ODDS OF WINNING WILL DEPEND ON THE TOTAL NUMBER OF ENTRIES RECEIVED. MANY WILL ENTER, FEW WILL WIN.
Universal Monsters Fan Art Contest begins July 20, 2018 and ends August 10, 2018. Must be age of majority or older to enter who, at the time of entry, are legal residents of and are physically located in the United States, the District of Columbia or Puerto Rico. One (1) grand prize winner will win $2,000 and no fewer than three (3) finalists will each win $300. Ten entries per person during the Contest Period. Total ARV of all prizes is $2,900. Void where prohibited. See Official Rules for additional eligibility restrictions and complete details. Sponsored by Hot Topic, Inc. and BoxLunch 18305 E. San Jose Ave, City Of Industry, CA, 91748 United States ("Sponsor") and administered by Fan Factory, ("Administrator").
FAQ
To see our full set of Contest FAQ, please click here.
To see the Official Rules, please click here.
Q: I've got a ton of ideas. What are the maximum number of designs I'm allowed to submit?
A: Great! But we cap the number of submissions at 10, unless otherwise stated.
Q: What file formats should I use when I send my designs over?
A: Please use either GIF, PNG or JPG.
Q: How large does my high-res art need to be if I am a finalist?
A: We're looking for high resolution. 15in by 19in at 300 dpi or as close to it as your art program can handle. If the image is too small, it may hurt your chances of winning.
Q: Can I promote myself and send designs to people I know, encouraging them to come to the site and vote?
A: Of course! We hope you'll promote yourself like crazy! So by all means let your friends, family and followers know.
Q: My design still isn't on the site and it's been more than 2 business days. What's up?
A: We review every submission first! Once it's been reviewed, they are made live for viewing and voting. We try our best to review submissions within 2 business days. Note: If you've done any of the following we will not accept the design into the contest and you may not be notified.
Your design has inappropriate materials or elements.

Your design uses other copyrighted material. This means you are using other people's intellectual property in your design you do not have the right to. No mashups!

You've used a design created by someone else as your own.
Q: I caught someone breaking the rules. What should I do?
A: Let us know. Email info@fanfactoryart.com with details. The more info you can give, the better we can determine how to proceed.